EXHIBIT MOTIVATES TRIBAL RESOLUTION TO DECRY PSYCHS' DRUGGING OF YOUTH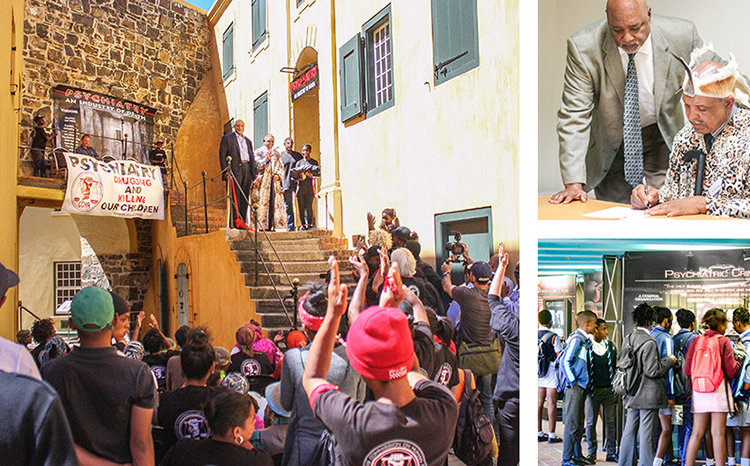 In a country with one of the highest rates of stimulant drugging of children in the world, CCHR opens an exhibit exposing the truth, inspiring a king to demand a brighter future for his people.
The protest march in Cape Town against the World Psychiatric Association (WPA) International Congress, culminated in the opening of the Citizens Commission on Human Rights world-acclaimed free traveling exhibit, Psychiatry: An Industry of Death, at the Castle of Good Hope. The "mobile museum" includes historical sections on psychiatry's role in apartheid as well as contemporary sections on psychotropic drugs and children's rights.
Rev. Fred Shaw and King Thomas Edgar Brown officiated the ceremony. In his message, King Brown addressed all South Africans: "Come and see for yourself the devastating facts that CCHR has." The ribbon fell and more than 10,000 visitors saw the exhibit, empowering them with the truth about psychiatry. Said one teacher, "I have for years refused to put my students on the medications like Ritalin and such. Now finally I know that I was right in my actions. I believe that God sent you by my way. Thank you."
Determined to protect the children and spiritual heritage of his people, King Brown issued a Tribal Resolution denouncing psychiatry. "I am issuing an official warning to the Khoisan people and all other Tribes and Nations against the dangers of psychiatry and I mandate all kings and leaders of all Southern African nations to denounce psychiatry and the psychiatric drugging of children," reads the resolution.
"I mandate all kings and leaders of all Southern African nations to denounce psychiatry and the psychiatric drugging of children."
The king points to reports that South Africa has one of the highest rates in the world of prescribed psychostimulants for children. To add to it, there are 27 international drug regulatory warnings on these psychiatric drugs for causing mania, hostility, violence and even homicidal ideation. "We must protect our children," says the king. And to psychiatry's founding tenet that "Man is an animal," the king concludes his resolution with, "We are a spiritual people; and psychiatry is an attack upon the souls of man and against God."
---
FACTS
SOUTH AFRICAN STRUGGLE
The South African endeavor for prosperity is sabotaged by psychiatry.
10,000
INCARCERATED
Black South Africans drugged and electroshocked without anesthetic in psychiatric camps.
39%
INCREASE
in antidepressant use in South Africa over the past four years.
50%
INCREASE
in Ritalin prescriptions over one year, reported in Nelson Mandela Bay, Eastern Cape province.
58
PSYCH HOSPITALS
in South Africa costing middle-class citizens up to R2700 ($196) a night.
0
CURES
admit psychiatrists at psychiatric association's international congress in South Africa.
---
DONATE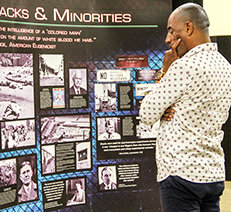 As a nonprofit mental health watchdog, CCHR relies on memberships and donations to carry out its mission to eradicate psychiatric violations of human rights and clean up the field of mental health. To become part of the world's largest movement for mental health change, join the group that has helped enact more than 180 laws protecting citizens from abusive psychiatric practices.