CCHR GETS LOUD AT ANNUAL AMERICAN PSYCHIATRIC ASSOCIATION CONVENTION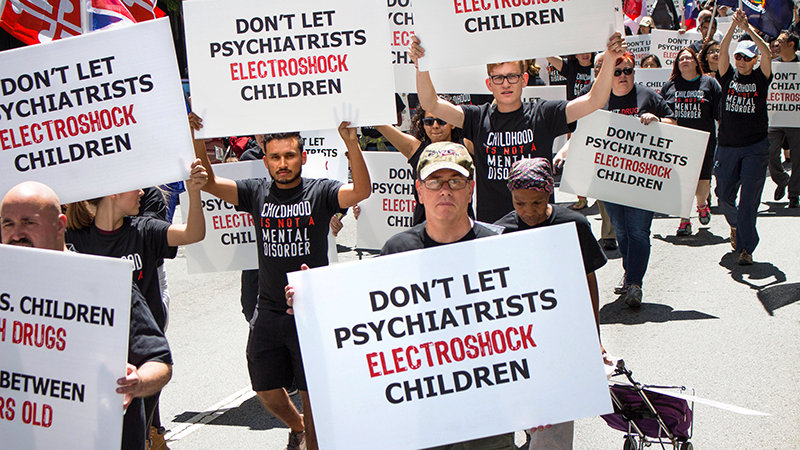 In the midst of the American Psychiatric Association's efforts to reclassify electroshock devices as "safe and effective" for children, CCHR demonstrators let the APA know: you don't speak for America.
While electroshocking US citizens already rakes in $1.2 billion every year, the American Psychiatric Association (APA) is now trying to take it one step further—pushing to get electroconvulsive therapy (ECT) devices reclassified as "safe and effective," not just for adults, but for children.
To counter that motion, the Citizens Commission on Human Rights (CCHR) "participated" in the APA's Annual Convention this past May—through protest marches, press conferences, public hearings and its massive Psychiatry: An Industry of Death exhibit.
Hundreds of concerned citizens and CCHR members marched on the convention's launch day, stopping outside of the World Congress Center for the better part of an hour to chant "APA, APA how many kids did you shock today?"
The march was followed by a nearby press conference featuring former Congressman Dan Burton, Georgia State Senator Donzella James and Atlanta NAACP Vice President Gerald Griggs.
ECT survivor Kenneth Fleischman put it this way: "Shock is a rape of the soul. It's like being a Holocaust survivor."
These, speaking from research and personal experience, slammed ECT, psychiatry's promotion of racism, and, in the case of Griggs, the dismay of seeing his father deteriorate after falling into the hands of psychiatrists.
Senator Donzella James, whose sister's life was destroyed by electroshock, announced that she is proposing legislation to strengthen informed consent for ECT and ban the practice for children 16 and under in Georgia. Current laws in that state dictate that if a patient refuses ECT, two doctors can overrule him.
The following day, two ECT survivors participated in a CCHR-organized public hearing. Evilyn Scoggin told of receiving more than 30 rounds of electroshock in 2005, after which she lost the ability to think or care for herself. ECT survivor Kenneth Fleischman, who wants to see the practice banned for all ages, put it this way: "Shock is a rape of the soul. It's like being a Holocaust survivor."
---
FACTS
CITIZENS COMMISSION ON HUMAN RIGHTS
is blowing the whistle on psychiatry.

3635
EVENTS
were held to preserve patient rights and expose psychiatric abuse in the last year alone.

52,638
STUDENTS
have been educated on human rights violations in the field of mental health and what they can do to stop them.

122,671,155
PEOPLE
around the world have been reached by Citizens Commission on Human Rights PSAs and award-winning documentaries.

17,948
MEDIA
articles, and TV and radio programs raised awareness about psychiatric abuse.

3,430
SCHOOLS
internationally have received CCHR educational materials or seminars.
---
YOUR HELP IS NEEDED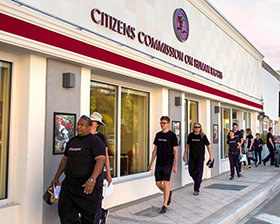 As a nonprofit mental health watchdog, CCHR relies on memberships and donations to carry out its mission to eradicate psychiatric violations of human rights and clean up the field of mental health. To become part of the world's largest movement for mental health reform, join the group that has helped enact more than 180 laws protecting citizens from abusive mental health practices.